April 7, 2020
It Takes us All to Flatten the Curve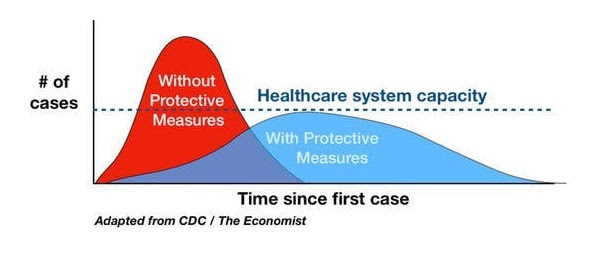 "Flatten the curve" is an expression we're hearing often these days during the COVID-19 crisis. To learn how we can help, we first need to know what we're talking about.
Blue Cross® Blue Shield® of Arizona (BCBSAZ) is here with facts on how each of us can support the doctors, nurses, and staff who are working around the clock to help those who have COVID-19 get well and to keep the virus from spreading.
What it means to flatten the curve
The term flatten the curve means a slowing down of the number of people who get or spread an illness like COVID-19. It means there are fewer cases at one time, which stretches out the number of people the healthcare system needs to take care of at the same time.
Flattening the curve doesn't lower the total number of people who might get the coronavirus; it simply spreads that number across a longer period of time.
Why it matters
Flattening the curve is a way to lessen the strain on the healthcare system and the people who work in it. Clinics, hospitals, and emergency rooms can better handle a more predictable stream of COVID-19 patients. More people will get the care they need if the system is able to treat them.
How you can help
Each of us can do our part to help flatten the curve by taking action. To lessen the chance that you will get or spread the coronavirus, follow these tips:
Important! Surgical masks and N-95 respirators are critical supplies that must be reserved for healthcare workers and other healthcare first responders.
Follow social distancing recommendations like these:

Keep about six feet of distance between you and other people in public spaces.
Shop at grocery stores and drug stores during off-peak hours. For example, go when they first open in the morning. Before you go, find out about the store's special hours for seniors and people at high risk.
Skip live social events.
Stay away from crowded places such as restaurants, shopping malls, movie theaters, or sporting events. (Many of these businesses are now temporarily closed.)
Use video conferencing and apps such as FaceTime® to safely talk with people face to face.

Call before you go to the doctor, clinic, or hospital. Even better, schedule a telemedicine (video) visit when you need medical help for non-emergencies.
First, see if your regular BCBSAZ in-network doctor offers telemedicine visits. Most doctor offices are now offering telemedicine (even if they didn't before), so it's a good idea to call and check.
If not, you can use BlueCare AnywhereSM (available with almost all plans).
Either way, you'll pay $0 out of pocket for in-network telemedicine visits through June 12, 2020, when services are covered by your plan, medically necessary, and reasonable to be provided virtually.
More COVID-19 resources
Staying informed helps flatten the curve. In Arizona, we have two new resources for answers to your COVID-19 questions.
1. Dial 2-1-1 for COVID-19 support
You can call 2-1-1 from anywhere in Arizona from 8 a.m. to 8 p.m. for updates about:
How to prepare for and prevent COVID-19 spread
Testing for COVID-19
Which people are at higher risk for COVID-19
What to do if a person gets sick
COVID-19 and animals
A list of websites with up-to-date information
The COVID-19 line is run by 2-1-1 Arizona and the Crisis Response Network. Information is offered in both English and Spanish.
2. Visit arizonatogether.org
Governor Ducey has launched Arizona Together at arizonatogether.org to support individuals, families, and businesses as we work to fight the spread of COVID-19. You'll find ways to volunteer, donate, find support, and learn more about COVID-19.
BCBSAZ gives support in flattening the curve
The Arizona Department of Health Services (ADHS) and other state and local partners are hard at work matching needs to resources for healthcare workers throughout the state. Giving personal protective equipment (PPE) is a key part of those efforts.
Last week, we were honored to donate 980 3M N95 masks for the ADHS at the State Emergency Operations Center.
Questions about your BCBSAZ healthcare coverage? Visit our COVID-19 resource page for the latest information and updates.

Sources:
FaceTime is a trademark of Apple, Inc., registered in the U.S. and other countries.
Courtesy of Blue Cross Blue Shield of Arizona